You are here
Status of Spring
How do you know when spring has begun? Is it the appearance of the first tiny leaves on the trees, or the first crocus plants peeping through the snow? The First Leaf and First Bloom Indices are synthetic measures of these early season events in plants, based on recent temperature conditions. These models allow us to track the progression of spring onset across the country.
How does this spring compare to "normal"?
April 23, 2018, Update: Spring leaf out arrived early in much of the West, Southwest, Ohio Valley, and parts of the Mid-Atlantic, compared to a long-term average (1981-2010). Parts of the Great Plains, Midwest, and Northeast are one-two weeks late. Parts of Nevada and eastern Washington, Oregon, and California are 4-5 weeks early.
First bloom, occurring later than First
Leaf and associated with blooming of early spring plants and leaf out of deciduous trees, tells a slightly different story for the Southeast. First Bloom arrived earlier than a long-term average (1981-2010) across much of the Southwest and Southeast. Parts of Texas saw First Bloom arrive one week late.
Download these maps:
Download the week-by-week animation of the Spring Leaf Index Anomaly or the Spring Bloom Index Anomaly (updated weekly, last uploaded April 2, 2018).
Download static maps of the First Leaf Index Anomaly or the First Bloom Index Anomaly (updated nightly)
When did spring arrive at locations across the country?
The First Leaf Index map at right shows locations that have reached the requirements for the Spring Leaf Index model so far this year.
The First Bloom Index map at right shows locations that have reached the requirements for the First Bloom Index model.
Learn more about the Extended Spring Indices and the data products available.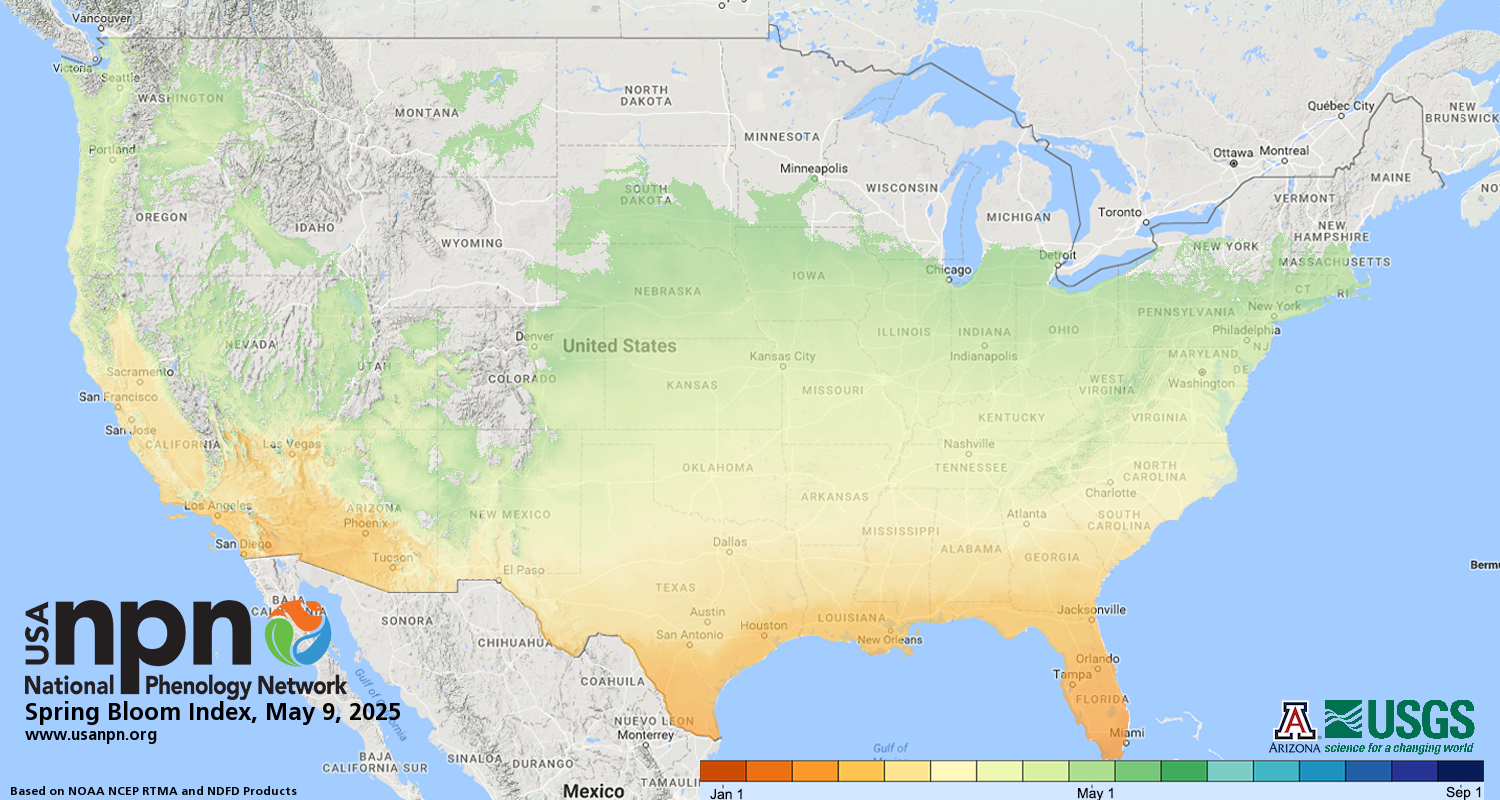 USA-NPN also produces a suite of Accumulated Growing Degree Day map products.
What is behind these maps?
The Extended Spring Indices are mathematical models that predict the "start of spring" (timing of leaf out or bloom for species active in early spring) at a particular location (Schwartz 1997, Schwartz et al. 2006, Schwartz et al. 2013). These models were constructed using historical observations of the timing of first leaf and first bloom in a cloned lilac cultivar (S. x chinensis 'Red Rothomagensis') and two cloned honeysuckle cultivars (Lonicera tatarica 'Arnold Red' and L. korolkowii 'Zabelii').
Primary inputs to the model are temperature and weather events, beginning January 1 of each year (Ault et al. 2015). Maps are based on temperature products from NOAA National Centers for Environmental Prediction Real-Time Mesoscale Analysis.
Re-use of Maps and Data
Content, maps, and data accessible via usanpn.org are openly and universally available to all users. USA-NPN is not responsible for the content or the use of the data. Content may be re-used and modified with appropriate attribution (e.g., "source: USA National Phenology Network, www.usanpn.org"). See our complete Content Policy and Data Use Policy.